New Strider single "Stay Open" has been completed. A digital release MADE for radio. Coming Soon...!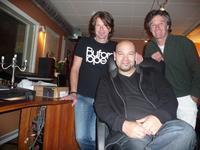 L ot R : Pelle Jernryd, Amir Aly (seated) and Jon during May 25, 2011 Stay Open recording session at YLA studio.

(2011-06-18)
Hot on the heels of "Apple Pie Song", Strider's new single "Stay Open" is mixed and mastered. Special thanks go out to Amir Aly, Pelle Jernyd and Thomas Eberger for their roles in making this next up-tempo tune explode out of the speakers.