New Jon Strider Swedish 'Summer Hit' 2012 Single : "Workin' Is For People That Don't Know How To Fish"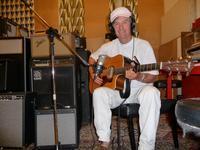 Jon tracking acoustic guitar at Emil Isaksson's Studio Möllan

(2012-05-14)
'WORKIN' IS FOR PEOPLE THAT DON'T KNOW HOW TO FISH" is Jon's new rockin'-country Swedish 'summer hit' single release on New Sky Records. Email or phone in your request to National Swedish P4 radio--and have a great Summer!! This song is track 7 on Jon's 'Fresh Tracks' CD which can be purchased here through this website or at Blue Desert Music and Folk 'n Rock (music stores) in Malmö. Note: Jon's 'Fresh Tracks' CD is no longeric accessible via Spotify. A new Strider album will be started the first week of June 2012.