New Fall 2012 Single Mixes Done : "Road Kill" & "Workin Girl"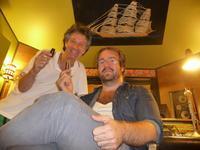 (L to R) Jon Strider (arranger/producer/artist) and Emil Isaksson (tracking & mixdown engineer /associate producer) hold the USB sticks that contain the finished "Road Kill" and "Workin' Girl" mixes. August 21, 2012. Photo by Trooper.

(2012-09-01)
Two extraordinairy songs, "Road Kill" and "Workin' Girl" intended for an A & B sided single, were cómpleted August 21, 2012 and will be released Fall 2012 on New Sky Records. A Big Thanks to the musicians and technicians on the recordings. Click on "Making Road Kill & Workin' Girl" on the left of this page for all credits and details about this project.