SCROLL DOWN TO LISTEN & BUY JON STRIDER CD RELEASES on New Sky Records
ORDER DIGITAL JON STRIDER MUSIC ONLINE AT BandCamp. Click on Link (below)
Physical CD's available Worldwideat: (1) Blue Desert Music in Malmö, www.bluedesertmusic.com. Go there in person and talk to Björn, or order online via the website. (3) Buy offstage at Jon Strider shows.
WORKIN
NOVEMBER 27, 2015
WORKIN' GIRL put out as the first single off of Jon's 9th solo album which will be released in early 2018. It immediately gained Sveriges Radio rotation (within 12 hours of its release!)...
SOUL REUNION - Out Now! - November 2016

'Soul Reunion' Cover Photo of Jon , at (roughly) age 9, by Michael Sturtevant. Digital rendering by Victoria Colella.
Release Date: November 11, 2016
Strider steps off the rockin' country tracks for a spell to deliver his best record to date. Sizzling, heartfelt R&B/Soul/pop inspired by his early San Francisco Bay Area days. The Bandcamp link below gets you right to it. Songs written by Jon Strider (& collaborators where applicable); Produced & Arranged by Jon Strider - Recorded & Mixed by Emil Isaksson at Studio Möllan, associate producer - Featuring Skip Edwards (Hammond Organ) and many more. Lyrics and full credits at Bandcamp. Go there now!
Songs: "Loves Me To Life" , "Your Place Or Mine" , "Love Is Real" , "Hallelujah Heartache" , "Southern Sun" , "True To You" , "When Someone Throws Your Love Away" , "Distance Do Me Good" , "Strong In Spirit"
BIG BLIND SPOT (single) (2015)
This wacky, rollicking country single has Buck Owens jamming with Daffy Duck! A fun one for sure! Jon co-produced this one with Andreas Eriksson. Laszlo Dancs on bass. Digitally released by New Sky Records in 2015. Written by Jon Strider. Produced by Jon Strider & Andreas Zäta Eriksson
ROAD KILL / WORKIN GIRL (singles, 2013-14)

Cover Photo by Mattias Hildingh Graphic Design: Tony Wiren Art Direction : Trooper
ROAD KILL (single) (2013)
FRESH TRACKS (2010)

Fresh Tracks cover photo by Tony Kohrsen (October 2009, Österlen, Sweden)
Strider's 6th solo 'FRESH TRACKS' album takes his
West Coast/Austin/Nashville influences to amazing new heights of singer-songwriter brilliance. A true story of an American immigrant. Scandinavia bound. Songs of love, hope and disillusionment, heartache and joy. Helped by Sweden's rising star producer, Amir Aly, the album's breakout hit single "Apple Pie Song" is a slice of pure pop perfection. Indeed, every one of these 'Fresh Tracks' is a sonic delight."
Musicians: Steve Chrismar, Maciej Szymczynski, Rasmus Svensson, Michael Gökinan, Pelle Jernryd, Amir Aly, Jon Strider, Emil Issakson, Niklas Fredin, Inge Pettersson, Marlon Tepedino
Backround vocals : Johanna Tham, Vera Renella, Jon Strider, Amir Aly
Producers: Jon Strider, Amir Aly, Emil Isaksson
Mastered by Thomas Eberger at Stockholm Mastering
Songs: "Apple Pie Song" , "You Need Me" , "The Bridge of Redemption" , "Magnolia Tree" , "Good Ol' Boy Gone Bad" , "Daddy's Comin' Home" , "Workin' Is For People That Don't Know How To Fish" , "Midsummer's Day" , "Lazy Sunday Mornin'" , "There's A Road"
WHITE WINGS (2006)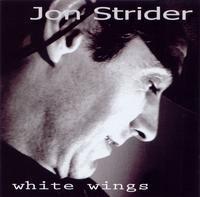 Cover Photo & CD bookletdesign : Mattias Hildingh Also thanks to Sara Hildingh for her graphic assistance
WHITE WINGS (May 1, 2005) (CD) New Sky Records
Recorded in Scandinavia, this crowning jewel in the 'Rhythm n' Folk' odyssey reveals deep personal transformation and renewal. An extraordinary collection of hopeful and uplifting songs that knock on heaven's door.
Strider's warm vocals ride on a rich bed of acoustic guitars and ethnic percussion combined with more modern, and often evocative, rhythmic and harmonic elements.
Produced by Jon Strider.
Recorded and Mixed by Amir Aly
Featured musicians: Amir Aly, Thomas Grün, Vera Renella, BG Sahlin, Jon Strider and Marlon Tepedino.
Songs: "At the Way Station", "In My Vera's Eyes", "We Got Faith", "White Wings", "Elvis Angel", "Walk Into The Light", "Best of Both Worlds", "Healing Power", "Coming Alive", "Peace" & "Flight".
2000 CALLING (2000)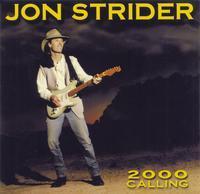 Cover photo: John Rutter
Jon's song writing passion, voice and art come full circle. A tapestry of vivid detail and power. Joining him on this effort is a coterie of musicians from the bands of Paul Simon, Don Henley, Jackson Browne, Carlene Carter, Lucinda Williams, Richard Thompson, Dwight Yoakum, Stewaart Copeland and Little Feat.
Produced, Arranged by Jon Strider
Recorded by Jon Strider & Brian Soucy
Mixed by Brian Soucy,
at Pacific Songworks/Intermix, Los Angeles, California.
Mastered by Eddie Schrayer at Oasis, Los Angeles
Musicians: Taras Prodaniuk, Billy Watts, Billy Block, David Raven, Edward Tree, John Fitzgerald, Armand Sabal-Lecco, Pete Fausone, Tom Conway, Dean Rohan, Robby Carlos, Martin Espino, Kenny Gradney, Jon Strider, Skyler Jett, Claytoven Richardson, Sandy Griffith, Laura Ahlstrand, Corky James
Triple A, Americana, Christian and rock radio airplay in the U.S.A. and Canada
Songs: "2000 Calling", "The Day They Killed Jo(h)n, "Treasure Island", "Point Of No Return", "Geronimo", "Waitin' On Selma",
"Little Napoleon", "The Car Is King", "Big Quake", "We Are Still The Same", "Brand New World"
KINDERED WAY VOL. 2 (1995)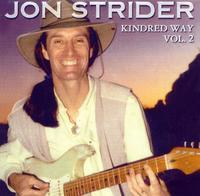 Cover photo: John Rutter
A fun, romping CD, more on the 'country rock' side of the tracks. Lots of U.S. airplay and touring in the Southeast and Northwest U.S.A.
Supporting musicians from the bands of Paul Simon, Carlene Carter, Dwight Yoakum, George Thorogood, Steely Dan, Elton John, Whitney Houston and Lucinda Williams.
Musicians: Taras Prodaniuk, Billy Block, Hurricane Jake, Steve Chrismar, Jo Anne Montana, David Raven, Armand Sabal-Lecco, Jon Strider, Chuck Johnson, Skyler Jett, Claytoven Richardson, Sandy Griffith, Laura Ahlstrand
Country, Triple A, Americana, Christian and rock radio airplay in the U.S.A. and Canada
Produced, Arranged and Recorded by Jon Strider at Pacific Songworks, Los Angeles
Mixed by Richard Kaplan & Chuck Johnson at Indigo Ranch, Malibu, Mastered by Bernie Grundman, Los Angeles
Songs: "Memory Train", "Shut Up and Eat Your Grits", "Oh Daddy", "Give Us These Things", "Straight Talkin' Machinery", "The Sound of Creation", "Close Your Eyes", & "If People Ask" :
STRIDER ...Steps Out (1990) - finally mastered in 2017 by Per Lindberg - released on Bandcamp 10/13/17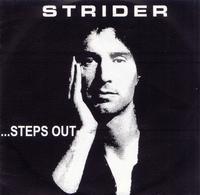 Cover photo by Burr Miller
His first. Witness the first echoes of embryonic 'Rhythm n' Folk' being squeezed out of energetic late 80's pop/rock.
Musicians from Tori Amos, Steely Dan, Martini Ranch and John Hiatt bands.
Pop and rock radio airplay in the U.S.A. and Canada
Produced and Arranged by Jon Strider
Recorded & Mixed by Pete Fausone in Los Angeles
Musicians: Corky James, Pete Fausone, Jon Strider
Songs: "Secret City", "Big Quake", "Private Hell", "Never Let Them See You Cry", "Say It To Me", "Marry for Money", "Share-y-Anne", "No More Heroes", "Open Up Your Heart".
the world´s first known contraceptive was made from a crocodile scrotum in Egypt 2000 BC?